Why This Pittsburgh Steelers Fan Won't Wear His Roethlisberger Jersey
Today is the day that football fans live for. This is the day they dream about all year, hoping their team will make it to the Super Bowl. Only two will. Only one will win. It seams that some teams never make it while others make it regularly, only to lose. A few, make it regularly and win.
I am a football fan. More specifically, I am a Pittsburgh Steelers fan and have been since they beat the Dallas Cowboys in Super Bowl X. I was a fan during the days of the steel curtain in the 1970 when the Pittsburgh defense dominated and Terry Bradshaw, Linn Swan, John Stallworth, and Franco Harris provided the offense. I was a fan in the 1980s when the Steelers couldn't win. I was a fan in the 90s, when Pittsburgh got to one super bowl and lost. And I have been a fan during the last decade when the Steelers have played poorly at times but have also played well, making it to several championship games, only to be beaten by the New England Patriots and then winning two and now appearing in their third super bowl in the last decade.
I will be rooting for the Pittsburgh Steelers tonight. I will be waiving my terrible towel. But I won't be wearing my Ben Rothlisberger jersey. I haven't worn it all year. Big Ben's off season behavior, including wild drunken parties and allegations of rape, have kept my jersey in the closet this year.
It's not just that Big Ben is looked up to by many young people, but Ben has claimed the name of Christ, wearing "PFJ" (Play for Jesus) on his shoes in college and the NFL (until the NFL prohibited him from writing on his shoes). As such, Big Ben has a responsibility to represent Jesus Christ as an ambassador to the world. This is a huge responsibility that requires him to live his life in a way that is worthy of the calling of Jesus Christ and to be holy even as God is holy.
One day, Big Ben will stand before the throne of God for judgment. God isn't going to ask him in that day how many super bowl trophies he won. He isn't going to ask him how many yards he passed for or how many MVP trophies he won. He's going to ask if his name is written in the lambs book of life, and if it is, He's going to ask whether he lived a life worthy of the calling of Jesus Christ.
Certainly, everyone makes mistakes. Everyone sins. But it is sad that so many athletes spend so much time developing their skills and so little developing their character. It is sad that the parents of these athletes have invested so much time and money to facilitate this sill development and so little effort discipling the next generation in obedience to God's commandments.
We know about Ben Roethlisberger's problems because of the media attention he receives. What if your life was exposed to that same scrutiny? What if everyone knew how you act when you think no one is looking? What if people saw how you act and how you talk when you're at home, or on Friday night, or Saturday night? What if you had a big screen TV above your head that displayed your thoughts for all to see? What would people think? God sees everything you do and hears everything you say. He also knows your thoughts and the secrets of your heart. You too will stand before God one day and give an account for your life. In that day, what will you say?
Opening Passage Psalm 1.Ephesians 4:1 -
"I, therefore, the prisoner of the Lord, beseech you to walk worthy of the calling with which you were called..."
1 Peter 1:1-25.vs. 3-5. - Q -
How does God describe our inheritance?
vs. 6-12. - Q -
How precious does God say our faith is?
Q –
What is the end of our faith?
vs. 13-16. - Q -
In vs. 13-16, Peter calls us to what standard of living? _____________________.
vs. 17-21. - Q -
How are we to conduct ourselves?
Q -
We were not redeemed with corruptible things, like _________________ and _______________, but with __________________________________.
vs. 22-25. - Q –
How do we purify our souls?
Q -
Is our faith based on corruptible or incorruptible seed?
We Were Bought With a Price1 Corinthians 6:15-20
- "Do you not know that your bodies are members of Christ? Shall I then take the members of Christ and make them members of a harlot? Certainly not! 16 Or do you not know that he who is joined to a harlot is one body with her? For 'the two,' He says, 'shall become one flesh.' But he who is joined to the Lord is one spirit with Him. Flee sexual immorality. Every sin that a man does is outside the body, but he who commits sexual immorality sins against his own body. Or do you not know that your body is the temple of the Holy Spirit who is in you, whom you have from God, and you are not your own? For you were bought at a price; therefore glorify God in your body and in your spirit, which are God's."
Training to WinRun to Obtain the Prize 1 Corinthians 9:24-27 -
"Do you not know that those who run in a race all run, but one receives the prize? Run in such a way that you may obtain it. And everyone who competes for the prize is temperate in all things. Now they do it to obtain a perishable crown, but we for an imperishable crown. Therefore I run thus: not with uncertainty. Thus I fight: not as one who beats the air. But I discipline my body and bring it into subjection, lest, when I have preached to others, I myself should become disqualified. "
How Can A Young Man Cleanse His Way Psalm 119:9-11 -
"How can a young man cleanse his way? By taking heed according to Your word. With my whole heart I have sought You; Oh, let me not wander from Your commandments! Your word I have hidden in my heart, that I might not sin against You."
Psalm 1 -
"Blessed is the man who walks not in the counsel of the ungodly, nor stands in the path of sinners, nor sits in the seat of the scornful; but his delight is in the law of the LORD, and in His law he meditates day and night. He shall be like a tree planted by the rivers of water, that brings forth its fruit in its season, whose leaf also shall not wither; and whatever he does shall prosper. The ungodly are not so, but are like the chaff which the wind drives away. Therefore the ungodly shall not stand in the judgment, nor sinners in the congregation of the righteous. For the LORD knows the way of the righteous, but the way of the ungodly shall perish."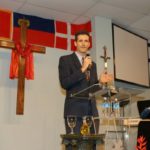 Pastor Bryan Longworth
serves as the associate pastor at
Covenant Tabernacle
in Port St. Lucie, FL, as the director of
Personhood FL
, a prolife organization working to pass the Florida Personhood Amendment that will end abortion in FL, and as the director of SOHL,
Sanctity of Human Life of the Treasure Coast
. Longworth continues to be involved in the pro-life movement and in calling the church and our nation to repentance. The church and America needs revival and reformation like never before. The blood of over 55 million children cries from the ground for vengeance, and God will avenge! God send us a true move of God lest we perish in our iniquity!
Sermon, Why We Must End Abortion NOW, And Who is My Neighbor? Am I my brother's keeper? What responsibilities do I have to my brother? Aside from the obvious responsibility to not harm my brother, I have the responsibility to Deal Faithfully in regard to Physical Intimacy, to Wait Until Marriage and Bring Up Children Only in Marriage, to Defend My Brother from physical danger. ProLife, Pro Life, Pro-Life, preborn, unborn, Sanctity of Human Life Sunday, Abstinence, Revival, Reformation, Great Awakening, Repentance, Restoration. Pastor Bryan Longworth, Covenant Tabernacle Worship Service. Prolife, pro-life, abortion, Repentance, Revival, Reformation, A True Move of God. Join us as we worship the King of King and Lord of Lords and call the church and our city, state, and nation to repent before a holy God. For information about Covenant Tabernacle, Port St. Lucie, visit Covenant Tabernacle's website
http://www.CovenantTabernacle.com
.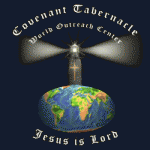 Covenant Tabernacle World Outreach Center
in Port Saint Lucie Florida is a nondenominational, charismatic reformed church that believes the Pentecostal gifts of the Holy Spirit are available to believers today. We believe God has called us to worship, proclaim His word, and Disciple the nations in obedience to His commandments.
Vibrant Worship
At Covenant Tabernacle, we believe in worshipping God "with all your heart, with all your soul, with all your mind, and with all your strength." (Mark 12:30 - NKJV) As a part of our worship, we blow the Shofar as blown in ancient Jewish worship.
Powerful, Bible based Preaching
We believe that the word of God is true (2 Samuel 7:28) and that "All scripture is given by inspiration of God, and is profitable for doctrine, for reproof, for correction, for instruction in righteousness, that the man of God may be complete, thoroughly equipped for every good work." (2 Timothy 3:16-17 NKJV) We encourage all believers to develop a Biblical Worldview that shapes our view on not only our personal life but also our family, friends, loved ones, church, and civil government.
Discipleship
We believe in following Christ's Great Commission to "'go therefore and make disciples of all the nations, baptizing them in the name of the Father and of the Son and of the Holy Spirit, teaching them to observe all things that I have commanded you; and lo, I am with you always, even to the end of the age.' Amen." (Matthew 28:19-20 NKJV) As such, we believe in discipling individuals, families, communities, cities, states, and nations in obedience to God's word.
Sermon, Why This Pittsburgh Steelers Fan Won't Wear His Roethlisberger Jersey, Football, NFL, Ben Roethlisberger, Super Bowl, Tiger Woods, golf, Vince Lombardi Trophy, Major League Baseball World Series, Gold Metal, Run to Win, Discipline Body, Rape, Fornication, Sexual Sin, Repent, Repentance, Turn Back to God, Judgment Day, Stand Before God, Give an Account for your Life, Covenant Tabernacle, Pastor Bryan Longworth, Covenant Tabernacle Worship Service. Prolife, pro-life, abortion, Repentance, Revival, Reformation, A True Move of God. Join us as we worship the King of King and Lord of Lords and call the church and our city, state, and nation to repent before a holy God. For information about
Covenant Tabernacle
, Port St. Lucie, visit Covenant Tabernacle's website
http://www.CovenantTabernacle.com
.